Our 36-inch Oxygen Chamber known as OxyAir 36 is feature-rich and has all the built-in safety features one could ask for. Featuring medical-grade components, NASA technology integrated, inside and outside pressure gauges, and an emergency pressure release button. Two people can fit inside our 36-inch Hyperbaric Chamber. Our Hyperbaric Chambers all include a sturdy interior frame that keeps the unit supported when not inflated. This prevents the bag from falling on you while waiting for the inflation of the unit.
We provide a 10 LPM oxygen concentrator that provides 95% to 97% oxygen purity with our units while our competitors only provide a 5 LPM oxygen concentrator as a standard configuration. We want you to have a quality system that you will be happy with for many years to come.
All of our Oxy-Air and Oxy-Flow systems are designed to reduce carbon dioxide buildup providing a more effective treatment compared to our competitor's systems.
Our units are made to last 25 to 30 years or more with durable triple heat-welded seams, medical-grade triple-layer dacron embodied TPU material, and a proprietary 2 zipper system that reduces stress and leakage at the zipper and makes our hyperbaric chamber unit stand above our competition. Our units have multiple certifications as listed below.
Be careful when choosing a hyperbaric chamber system. When considering this type of purchase for your health, you want to choose a product from a company the will provide you with the best quality and service in addition to a product that will provide effective treatments for years to come.
Call our hotline for any questions! 630-634-7500
Speak to one of our oxygen specialists and learn more about our superior hyperbaric chamber systems.
We have two different options for Financing
1) Apply for 6 month financing

contact us

for details.
2) Apply for Business Financing through our Speedy Approval Finance company at the following address, Our Super low pricing won't last forever so take advantage of this opportunity today!
Hyperbaric Oxygen Chamber Features:
| | |
| --- | --- |
| | Can be operated alone, without assistance. |
| | Delivers 95%+ Oxygen under pressure via face mask. |
| | 36-inch diameter provides plenty of room for comfort and to be able to move around. 2-person hyperbaric chamber |
| | We offer a 10 LPM Oxygen Generator at no additional cost |
| | Delivers safe and effective oxygen at 1.4 ATA and 5.8 PSI. |
| | Our unique system prevents carbon dioxide buildup and filters pollutants down to the micron level. |
| | Seams are triple heat welded and no toxic glues are used. |
| | Features a unique 3 zipper system (2 zippers for the chamber inside and outside with a center flap seal) and one zipper for the cover that dramatically reduces stress and possible breakage of the zipper. |
| | The unique design of pressure relief valves. Making it easier to depressurize. |
| | Includes an emergency valve on the chamber to speed the depressurization in an emergency.  |
| | Can be operated continuously |
| | An internal pressure gauge is equipped so the user can observe the pressure while inside the chamber.  |
| | Includes Anti-Roll bolsters.  |
| | Our materials are as certified nontoxic medical grade extra strength multi-fabric triple layer 44 oz or 1 mm thick TPU embodied with a polyester material called Dacron (Used for years by NASA in space suits). The windows on the 1.4 ATA chamber are 2 mm thick TPU |
| | Includes video setup training, Quick Tips guides for usage, and Customer support for any questions during acquaintance with the unit in addition to ongoing support. |
| | The included dehumidifier is designed to make your healing experience more comfortable. A premium feature valued at over $700 offered at no additional cost. |
| | Unlike other systems, our system is supported by an internal metal frame, allowing for ease of entry and exit.  |
| | An additional port is embedded in our system in case you want to utilize our ionizer or add a secondary oxygen generator. |
| | Includes Negative ION UNIT to enhance treatment. This incredible new option allows customers to receive pure oxygen along with negative ions.  We are the only company in the industry to provide this incredible new feature. |
| | With our Medical Grade components, we provide the best quality and features in this price range and rival many units at 3 times the price. |
| | Includes video setup training, Quick Tips guides for usage, and Customer support for any questions during acquaintance with the unit in addition to ongoing support. |
| | Apply for 6 month financing contact us for details. |
| | Fast shipping to your door by FEDEX or DHL |
| | Best pricing available.  |
To give you an idea of the quality of our systems. All our chambers go through a rigid test plan. The Hyperbaric Chamber reservoir bag is rated to last a whopping 39 years if used 1 hour per day and 5 days per week. Our test systems have been running at a much higher pressure continuously for 5 years now. That is over 43,00 hours with no faults. Our manufacturing has been certified as ISO9001, ISO14001, and ISO13485 compliant.
Our 36-inch Chamber is utilized when multiple customers want to engage in therapy simultaneously or by larger pro athletes and clinics who want a unit to fit all sizes. There are many people out there looking for larger units for extra comfort.
We have had some customers tell us stories of purchasing used chambers from our competitors on eBay or other mediums only to find they had leakage. So why buy a used system when you can have a new one and have the peace of mind knowing that you are purchasing the best in both quality and features to hold the test of time.
If you have a specific color requirement for this chamber, we can customize the color for an additional cost.
Specifications
SPECIFICATIONS OF OXYGEN HEALTH SYSTEMS 36 INCH OXY-AIR HYPERBARIC OXYGEN CHAMBER
ITEMS
WEIGHT
POWER
SIZE
FEATURE
Chamber
30 lbs
N/A
Length: 89 Inches
Diameter: 36 Inches
★ 1.4 ATA | 5.8 PSI | 42 KPA.
★ High strength double-sided 44 oz medical grade TPU coated PET polyester material source from Germany.
★ Non-toxic/ECO-Friendly.
★ Portable/Foldable.
★ Safe/One-person operation.
★ Warranty 3 Years.
Oxygen Concentrator
42 lbs
640 Watt
13″ L x 12″ W x 24.5″ H
★ FDA Approved
★ PSA molecular sieve high technology.
★ Non-Toxic and ECO-Friendly.
★ 18 to 20 PSIG @ 95% Purity.
★ Continuous flow oxygen production, no oxygen tank required.
★ 630 Watt (10 Amps) Heavy-duty motor.
★ Warranty 3 Years.
Compressor
40 lbs
520 Watt
15″ L x 9.5″ W x 10.2″ H
★ Oil-free.
★ Non-toxic/ECO-Friendly.
★ Quiet.
★ Super adsorption activated filters.
★ Double inlet and outlet filters.
★ 3 Years Warranty.
AC Unit
67 lbs
550 Watt
13″W x 16″L x 22″H
★ Temp. Range(℃): -5~30 (Water)
Total Watts
1710 Watt
All Equipment Voltage
110v-120v ( 220V available upon request)
Certificates
CE, ISO9001, ISO14001, ISO13485
Optional Upgrade
Entrance
★ Top Entrance
Add 2nd 10 LPM Oxygen Concentrator
Internal Grounding Pad
0.023 lbs
Vollara Air & Surface Pro +
FDA Approved providing stable oxygen purity at 10 LPM with 95% purity after 5 minutes. Provides a hefty 640 Watt Motor for long-lasting durability and 18 to 20 PSIG suitable for high-pressure chambers!
SPECIFICATION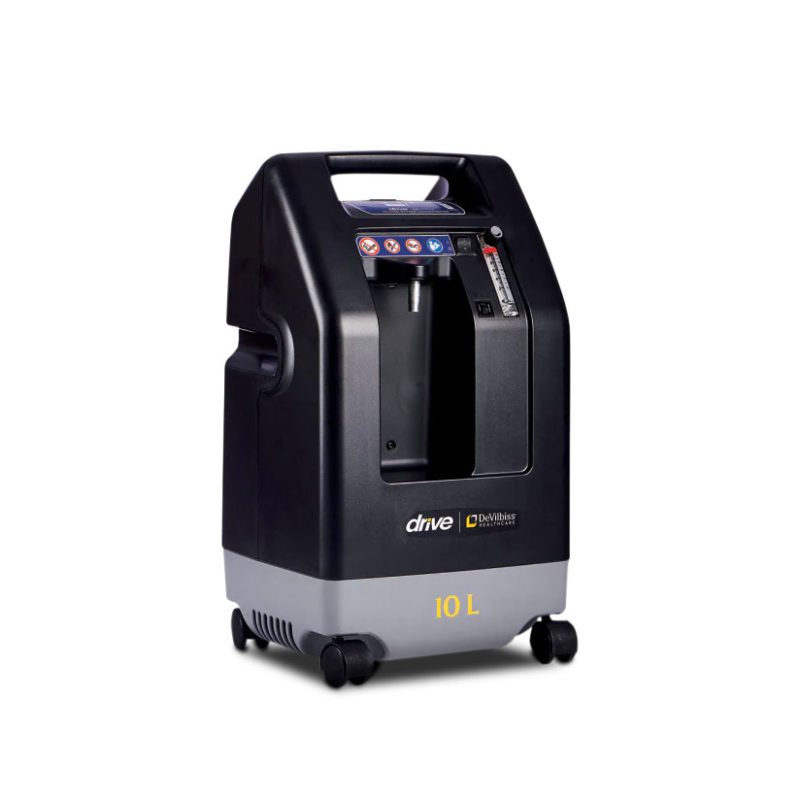 Adjustable pressure control system
Oil-free low noise design provides high volume Air Flow at 72 LPM.
Provides activated carbon two-way filtering technology.
Effectively Purifies air and all dust contaminants.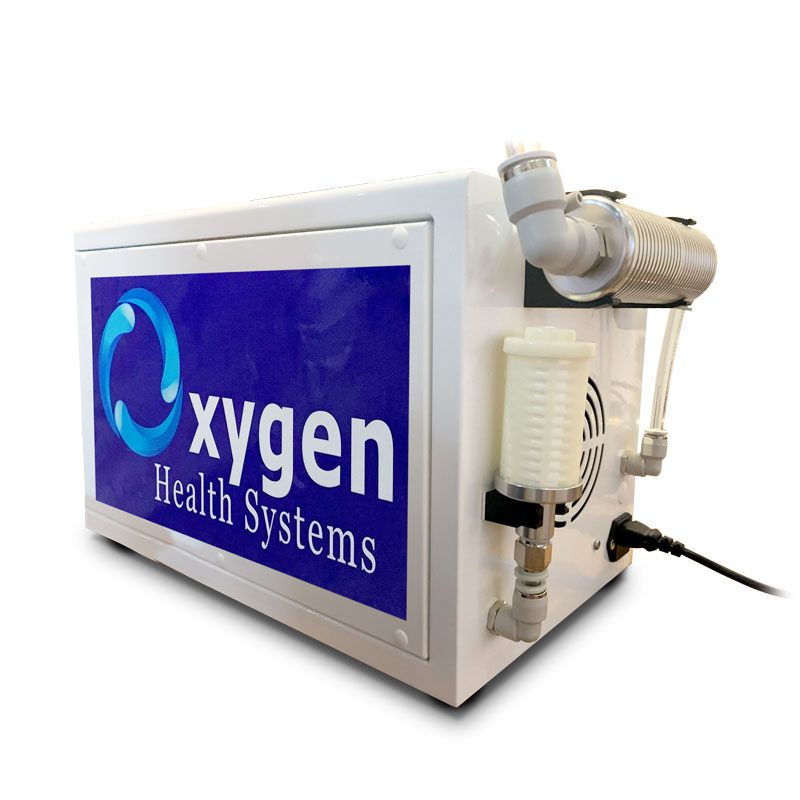 Dehumidifier provided as a standard option also saves over $700 in cost.
Optional Update for Air Conditioning
RELIABLE PATENTED ZIPPER SYSTEM
2 layer zipper with center flap for an anti-leak design. Our zipper system provides double protection and reduces stress on the zipper system to provide many years of usage. Additionally, the outer cover zips up for additional chamber support to support the longevity of our system.
We use the industry's first "highly sealed triple reinforced fasteners." Sealed with silicone and 2 layer zipper to completely sealed and prevent leakage for years to come.
INTERNAL AND EXTERNAL PRESSURE GAUGE
Internal and External high-precision pressure gauges, allowing you to control pressure changes at any time.
Allows for accurate observation of pressure inside and outside the chamber.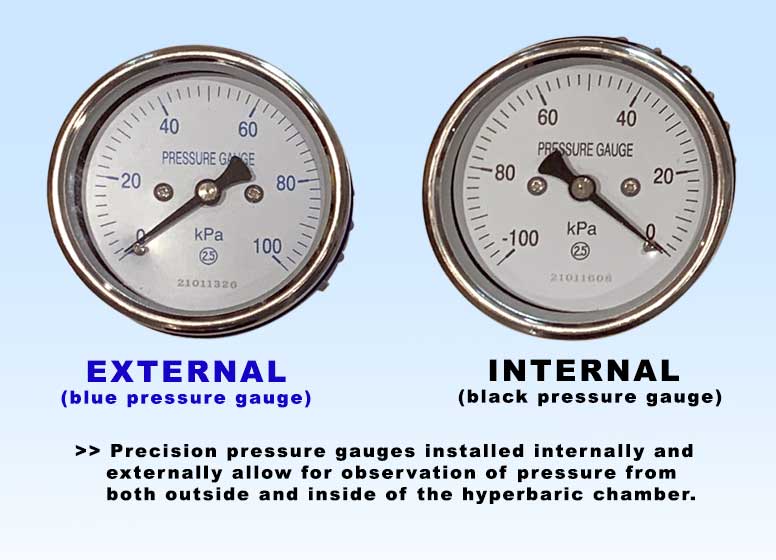 Emergency Pressure Relief Valve
Patented design emergency relief valve,in case of emergency,the user can press the release button from interior to depressurize the chamber quickly,then open the zippers to exit the chamber quickly.
The system includes the following items
| | |
| --- | --- |
| | Extra Strength/Non-Toxic Chamber capsule sized for maximum Comfort or 2 individuals if required. |
| | Oil-Free Air Compressor |
| | Oxygen Concentrator Upgraded to 10 liters/min |
| | Comfort Mattress |
| | Metal Frame |
| | Air Conditioner integrated. |
| | Negative Ionization System |
| | A muffler designed to reduce noise in the chamber |
| | 2 Oxygen Masks, 2 Headsets, and 2 Nasal Cannulas included to breathe oxygen directly. |
| | Anti-static Earthing Matt |
  KEY FEATURES OF OXYGEN HEALTH SYSTEMS CHAMBERS


Portable, Simple to Install, Easy to Use

Durable Internal Frame for Greater Chamber Structure Support

Environment-Friendly Materials, NON-Glue, NON-Toxic

Memory Foam Mattress Made for Greater Comfort

Quality Dual Zipper System (YKK) for Durability and Strength

Internal/External Dual Pressure Display Allowing Pressure Reading Anytime from Inside and Outside

Five Carbon Filters Designed to Remove Fine Contaminants and Provide Clean Air

Internally/Externally Operable Pressure Release Valve for Self-Sustaining Operation

Quiet High-Volume Air Compressor Designed to Expel CO2

Dual-Action Air Conditioner for Internal Cooling/Removal of Humidity

Included Ionization Technology to Elevate Negative Ions Inside Chamber

Multiple Spare Ports For Future Expansion

Redundant Pressure Regulating Valves for Added Safety

Super High Pressure 20 PSI, 10 LPM Oxygen Concentrator with 95% Purity

Operational Videos and Training

Higher pressure models available. Higher pressure translates to greater compression of oxygen molecules

Available Models with Advanced Door Design for Easy Entry/Exit for Mobility-Challenged Users

O2 Concentrator at NO Extra Charge

Default Dehudifier at NO Extra Charge Included with Chamber Without A/C

Midwest-Based US Company with all US-Based Customer/Technical Support
*

25% restocking fees apply to all hyperbaric products. Return must take place within 15 days of receipt of products. Shipping charges are non-refundable and non-negotiable. Additionally, a $250 warehouse handling/logistic fee would apply.
Return Policy
How do oxygen molecules get 400% deeper into your tissues as they do with Hyperbaric Oxygen Therapy?
They actually shrink under this pressure and can squeeze through constricted blood vessels, inflamed tissue, cross the blood-brain barrier, enter lymph nodes, cerebrospinal fluid, and musculoskeletal system. Essentially, oxygen is delivered into all of our tissues, including areas where circulation is diminished, which is an extremely important component as oxygen is essential for the function and maintenance of every cell in our body, regardless of whether it's an organ, muscle, or bone.
This is analogous to what you see in a can of soda as the CO2 particles are under pressure, and therefore decrease their sizes enough that they dissolve into the liquid. When you pop the can open, the pressure is released, the CO2 particles increase in size and you see the fizz. This is exactly what happens to your oxygen molecules as they decrease in size under pressure and dissolve into the blood plasma. This exponentially increases oxygen delivery through the body and makes it possible for oxygen to enter inflamed tissue or tissue that is starving for oxygen (hypoxic) to support optimal cellular activity. 

Oxygen is the final electron acceptor in the Electron Transport Chain, which is where all of the ATP is produced. This is known as aerobic respiration, or how our cells breathe. Oxygen is essential to life, but it is how it affects the function of every cell in the human body that makes it necessary for life. Without oxygen, we can't make energy for our brain, organs, or any tissue. The more oxygen we can deliver to our tissues, the healthier, energetic and mentally well we feel. It has a very high affinity for electrons (high electronegativity), making it a good electron acceptor and perfect in its role. In summary, Oxygen allows us to make ATP, which is the energy currency of our body, thereby required by all cellular processes to function and therefore heal to support normal bodily and brain function, including organs, bones, joints, muscle, etc.