This 34 inch 2.0 ATA hyperbaric hard chamber will take you to the deepest dive at an equivalent of being 33 ft underwater, yet breathing high volume, high percentage oxygen. This would provide the deepest tissue penetration of oxygen and infused oxygen into the blood plasma. Significant research has been done at the 2 ATA pressure. This is fast becoming our best-selling hard chamber due to the research. However, this system can be equipped with progressive controls allowing you to select one of 5 selectable individual pressures you wish to treat at. At 2 ATA you will likely want to manage the interior comfort with our dual-action air conditioning system. Our system is unique in the industry of high-end hyperbaric's as is does not require any special venting due to the fact that the net room oxygen does not change as the unit is operated. Oxygen Health System's hyperbaric hard chambers are designed for safety, durability, comfort, and ease of entry and exit along with many more advanced features. This hyperbaric hard chamber system is designed for practitioners or home users who want a more advanced system that allows for higher pressurization in a hyperbaric therapy system and that also provides a simplified single-user operation. Just power it up, get inside, and hit the button to start therapeutic sessions. Clients of all shapes and sizes will love this system for its expansive roominess and the luxury it can provide in an environment of everyday and all-day usage.
Call Direct 1 630-634-7500 for questions!

We have multiple options for Financing. 
1) Apply for personal financing though uplift or 6 month financing contact us for details.
2) Apply for Business Financing through our Speedy Approval Finance company at the following address, Our Super low pricing won't last forever so take advantage of this opportunity today! Apply Now
This chamber is equipped with a high-precision computer firmware-driven All-in-one unit to provide high volume air along with 95% oxygen.
Our large, 34" steel hyperbaric chamber is highly versatile and allows physicians to treat at up to 2 ATA (15 psi) pressure. The combination of our chamber and specially selected equipment allows breathing at levels up to 95% oxygen.
We continually strive to improve an already incredible product by adding new features such as our negative ionization system now integrated as a base feature. We have recently made available noiseless pressure relief valves that significantly reduce the sound produced by hyperbaric operations which can be as high as 68 dB.  We also, provide the option to integrate Air Conditioning systems for those who require this enjoyable amenity.
Our hardshell hyperbaric chamber mitigates a number of the negatives associated with their use in private practice. There is no need for costly installation, and our chamber itself is quite compact – perfect for practices already short on space. The chamber is simple to operate and has very low running costs, the only consumable being electricity.

Free Inclusions
We understand our customers. Medical equipment needs to work from day 1, which is why we include everything required to operate the chamber smoothly, ensuring a positive experience for both physician and patient.
| | |
| --- | --- |
| ➙ | Internal control panel allows for single-person operation from the inside of the unit. |
| ➙ | Easy-slide large polycarbonate cabin door for easy access. Activated by pressure, with automatic release upon de-pressurization. |
| ➙ | The automatic air pressure system, the door is sealed by pressure. |
| ➙ | All- in- one-machine:(included  10 Liter/minute Oxygen generator, Dehumidifier, and air compressor) |
| ➙ | Digital display and control systems allow the practitioner to see current interior Pressure, Air Temperature, Humidity, and  Percent Oxygenation. |
| ➙ | Interior and exterior pressure gauges. |
| ➙ | The timer on digital control allows automatic programming of session time. |
| ➙ | Communication interphone with attendant alerting. |
| ➙ | Grounding Mat for a static free session. |
| ➙ | Oxygen breathing headsets, nasal cannulas, and facemasks for ability to treat at 95% oxygen. |
| ➙ | Expansion port allows for secondary devices to be connected or allows for future upgrades of other alternative devices if required. |
| ➙ | Negative ION UNIT to enhance treatment. Due to the addition of the negative ion device, our customers can experience the relaxing benefit of fresh air similar to being on a beach.  This option would allow customers to receive pure oxygen containing negative ions at high pressure and promote the body's self-renewal process; enhance the vitality of immune cells. |
International Sales:
We sell internationally and can provide our systems to your international voltage and plug type requirements.
A Positive Patient Experience

Our HBOT chamber comes equipped with all of the essentials to ensure your sessions run smoothly. The interior is designed to be as comfortable as possible, with our large window positioned to minimize the effects of claustrophobia and keep the patient relaxed.
Air Conditioner
The inclusion of a dehumidifier (built into the all-in-one compressor) unit is a great addon the is free with this unit. However, In a confined space or where the room temperature is not adjustable to the optimal 68 degrees or lower, the treatment might become slightly uncomfortable for some patients. An air conditioning unit can be integrated and allows you to maintain a more constant temperature inside the chamber is available at an additional cost with this chamber.
Interior Comfort & Operation
The interior is padded and contains a soft mattress and pillow. The operation of the hyperbaric chamber can also be controlled from inside, with basic controls and emergency alarm located within reach.
Entertainment
The standard treatment time of 60 – 90 minutes can have a positive impact. Our chamber comes with a dim interior light to allow patient relaxation, while still allowing them to read a book.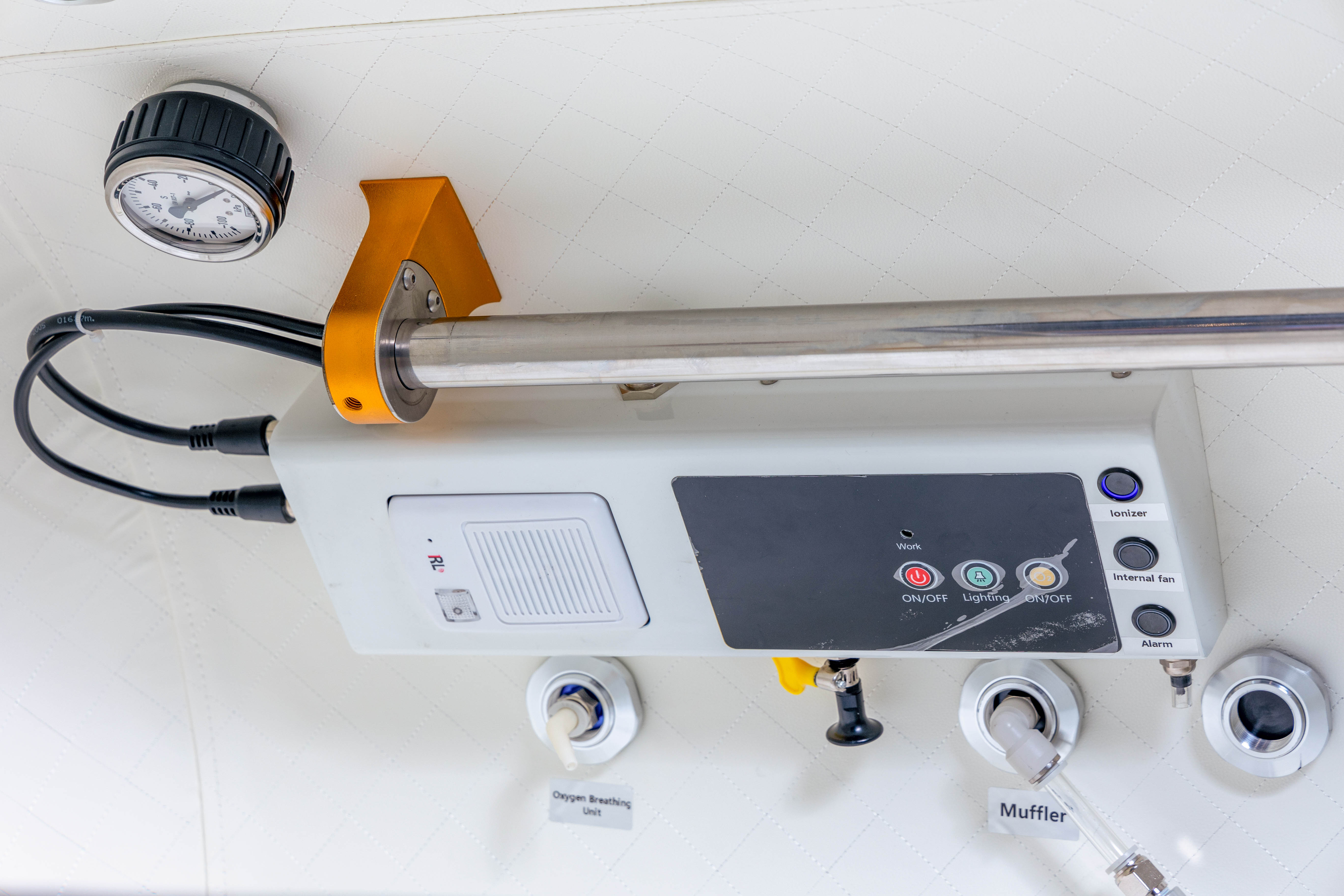 For Practitioners
Our Hyperbaric Chamber is designed to be easily controlled and allows you to be in constant contact with the patient. The ease of operation requires very little training, and the sessions can easily be managed by staff. For maximum effect, each session generally lasts 60 – 90 minutes. Please speak to our sales team about our Doctor's only specific Add-on features.
Many of our practitioners are concerned about the noise that a Hyperbaric Chamber might make in their office environment. The noise levels from our systems are well below that of the standard at 52 dB and are reduced also with our silent pressure release valves which is another distinguishing benefit to our system.
For Pets
Accompany your pet inside the chamber so they can enjoy the benefits of Hyperbaric Oxygen. Also, ask about our smaller pet chambers.
Ergonomic Chamber Control
Our user-friendly control station is designed to ensure simple operation and management. The functional layout allows full management and oversight of the chamber, controls, and communications. Chamber features also allow one person to operate the chamber without assistance if required for home use.
Emergency & Preventative Measures
The hyperbaric chambers are equipped with numerous safety features for peace of mind for both practitioner and patient. Whilst hyperbaric chamber use is considered very safe in the medical industry, there is always the risk of complications. We have invested heavily in measures to ensure patient safety, such as:
| | |
| --- | --- |
| 1. | More gradual pressurization of the chamber; allowing for staff assessment and discomfort checks. |
| 2. | Emergency Alarm control for the patient to alert staff via interphone. |
| 3. | Emergency Pressure Relief Valve; reduces pressure in the case of an emergency. |
| 4. | Intercom phone system; for ease of communication with patients. |
| 5. | Easy Entry and Exit via our unique sliding door. |
| 6. | Interior controls all for single user operation of all features without supervised assistance. |
| 7. | All our hard chambers have an interior grounding mat to mitigate any static charge that could occur during your session. |
| 8. | The system slowly depressurizes in a safe manner if power is lost.  |
| 9. | Internal Emergency door release button |
Operational Costs
There are no consumables required to operate the hyperbaric chamber, only the electricity to run the air compressor/oxygen concentrator/air cooler (single machine). Per hour cost for electricity is roughly 39 cents per hour.  
Warranty
We take pride in our product quality and all hyperbaric chambers come with our standard 36-month materials and workmanship warranty.
OXYGEN HEALTH SYSTEMS 34 HARDSHELL HYPERBARIC OXYGEN CHAMBER SPECIFICATIONS
SPECIFICATIONS
WEIGHT
POWER
SIZE
Chamber

396 lbs

N/A

Length: 88 Inches Diameter: 34 Inches


CHAMBER FEATURE


★ 2.0 ATA | 15 PSI | 100 kPa  2.5 mm thick 304 Grade Stainless Steel  ★ 10mm thick Polycarbonate window from Bayer Germany mounted on Heavy steel rods with ball-bearing rollers ★ Incremental Control of pressurization and depressurization. ★ Interior & Exterior Emergency pressure Relief valve ★ Can Be Operate without Assistance ★ Interior Lighting & Alarm System ★ Allows Incremental auto controlled session time up to 2 hours by Timer ★ Optional progressive control feature to dial in a specific pressure ★ Warranty 3 Years

All-In-One Oxygen Concentrator

176 lbs

1200 Watt

30″ L x 18″ W x 28″ H

OXYGEN CONCENTRATOR FEATURE


★ 15 LPM Total Oxygen Flow ★ 70 LPM Air Flow ★ ≥95% Oxygen Purity ★ Oil free ★ Non-toxic/eco-friendly ★ Quiet ★ Super absorption activated filters ★ Double inlet and outlet filters ★ Integrated Dehumidifier ★ PSA molecular sieve high technology ★ Non-toxic and eco-friendly ★ Two continuous flow oxygen generators are included with this system,  no oxygen tank required 

Total system Weight

572 lbs

Total system Watts

1200 Watt

All Equipment Voltage

110v-120v ( 220V available upon request)

Certificates

CE, ISO9001, ISO14001, ISO13485

Also Features our Enhance Cooling system
AC Unit

67 lbs

550 Watt

13″W x 16″L x 22″H

AC FEATURE




★ Temp. Range(℃): -5~30 (Water)

Grounding System

GROUNDING  FEATURE




Provide safety in a highly oxygenated environment
AIR CONDITIONER

Our New Air Conditioner is a two-part system with a condenser on the inside of the chamber and the cooling unit on the outside of the Chamber. This system provides all the comfort you will need during your sessions or during extended usage of the system.

OPTIONAL ADDONS:

We have the option to order an Air Conditioning system. We are the only hyperbaric manufacturer to offer an air conditioning system for use with Hyperbaric Oxygen Chamber Systems. Call for details.
DISCUSSION OF DR. DAVE DORNFELD
Oxygen is the final electron acceptor in the Electron Transport Chain, which is where all of the ATP is produced. This is known as aerobic respiration, or how our cells breathe. Oxygen is essential to life, but it is how it affects the function of every cell in the human body that makes it necessary for life. Without oxygen, we can't make energy for our brain, organs, or any tissue. The more oxygen we can deliver to our tissues, the healthier, energetic and mentally well we feel. It has a very high affinity for electrons (high electronegativity), making it a good electron acceptor and perfect in its role. In summary, Oxygen allows us to make ATP, which is the energy currency of our body, thereby required by all cellular processes to function and to support normal bodily and brain function, including organs, bones, joints, muscle, etc.

DISCUSSION OF DR. DAVE DORNFELD
Q & A Safety Question:
Do I need to install firewalls for using this system?
Although, it's always great to take precautions. Our system runs the interior of the chamber at 40% and the exterior of the chamber will have a net oxygen percentage of a bit lower than when they started their session. So in your room, the oxygen that is converted from the room mixed air into 95% oxygen that will enter the chamber resulting in 40% Oxygen inside the chamber that will evacuate and redistribute into the room resulting in the same percentage of oxygen or lower than the room originally started with. i.e the net oxygen percentage in the room itself is never increased.  
So, the difference between our system and hospital grade chambers is that they use compressed oxygen tanks that are very dangerous, and the net oxygen evacuated from the chamber would raise the room oxygen percentage if the output of the chamber were to vent inside the room.
How do oxygen molecules get 400% deeper into your tissues as they do with Hyperbaric Oxygen Therapy?
They actually shrink under this pressure and can squeeze through constricted blood vessels, inflamed tissue, cross the blood-brain barrier, enter lymph nodes, cerebrospinal fluid, and musculoskeletal system. Essentially, oxygen is delivered into all of our tissues, including areas where circulation is diminished, which is an extremely important component of healing as oxygen is essential for the function and maintenance of every cell in our body, regardless of whether it's an organ, muscle or bone.
This is analogous to what you see in a can of soda as the CO2 particles are under pressure, and therefore decrease their sizes enough that they dissolve into the liquid. When you pop the can open, the pressure is released, the CO2 particles increase in size and you see the fizz. This is exactly what happens to your oxygen molecules as they decrease in size under pressure and dissolve into the blood plasma. This exponentially increases oxygen delivery through the body and makes it possible for oxygen to enter inflamed tissue or tissue that is starving for oxygen (hypoxic) to support optimal cellular activity.