Our Multiperson Hyperbaric Oxygen Chamber is feature-rich and has all the built-in safety features one could ask for. Featuring medical-grade components, NASA technology integrated materials (DACRON), inside and outside pressure gauges, and an emergency pressure release button. Four people can fit inside our multiple Hyperbaric Chamber measuring 6 foot wide and 8 ft tall. Our Hyperbaric Chambers all include a sturdy but lightweight frame. Now with a U Style door, the entry is exit is simple for larger adults.
Call our hotline for any questions! 630-451-8821
Speak to one of our oxygen specialists and learn more about our superior hyperbaric chamber systems.
Hyperbaric Oxygen Chamber Features:
Can be operated alone, without assistance.
Delivers 95%+ Oxygen under pressure via face mask.
We provide two All-in-One medical grade 10 LPM All-in-One Oxygen Generator/Compressor at no additional cost. 
Provide a total compressed air input of 210 LPM.
We provide an Air Conditioning System as a standard feature.
Delivers safe and effective oxygen at 1.3 ATA and 4.3 PSI.
Our unique system prevents carbon dioxide buildup and filters pollutants.
Seams are heat welded and no toxic glues are used.
Features unique 2 zipper system with center flap provides a seal with leak prevention and dramatically reduces stress and possible breakage of the zipper.
The unique design of pressure relief valves. Making it easier to depressurize.
Includes an emergency valve on the chamber to speed the depressurization in an emergency. 
Can be operated continuously
An internal pressure gauge is equipped so the user can observe the pressure while inside the chamber. 
Our materials are as certified nontoxic medical grade extra strength 44 oz. TPU embodied with a polyester material called Dacron (Used for years by NASA in space suits) .
Our system is supported by an external metal frame, allowing for ease of entry and exit. 
With our Medical Grade components, we provide the best quality and features in this price range and rival many units at 3 times the price.
Includes Quick Tips guides for usage and Customer support for any questions during acquaintance with the unit in addition to ongoing support.
6 month no interest financing available. Call for details
Fast shipping to your door by FEDEX or DHL
Best pricing available. 
We sell internationally and can provide our systems to your international voltage and plug type requirements.
To give you an idea of the quality of our systems. All our chambers go through a rigid test plan. The Hyperbaric Chamber system is rated to last a whopping 39 years if used 1 hour per day and 5 days per week. Our test systems have been running at a much higher pressure continuously for 5 years now. That is over 43,000 hours with no faults. Our manufacturing has been certified as ISO9001, ISO14001, and ISO13485 compliant.
Our Super low pricing will not last forever so take advantage of this opportunity today!
We have two different options for Financing
1) Apply for 6 month financing

contact us

for details.
2) Apply for Business Financing through our Speedy Approval Finance company at the following address, Our Super low pricing won't last forever so take advantage of this opportunity today!
Standard Specifications:
Standard Specifications:
Exterior Size: 2 meter * 2.53 meters
Interior Size: 2 meter * 2 meters
Material TPU
Pressure variable pressures from 1.1-1.3ATA
Voltage : 110V 
Net Weight 
Packing dimensions: 
Chamber Size:
Total Weight with Accessories – 
Includes Oxygen Generator | Air Compressor | Dehumidofiers as follows:
210 LPM Air compressor: 54 x 36 x 63 cm – 18 kg 
Oxygen Concentrator: 10 LPM – 28 kg – 500 Watt
Air Cooler: 5 KG – 300 Watt
Windows: 4 viewport windows
Warranty: 1 Year
Certifications: CE, ISO9001, ISO14001, ISO13485  
The system includes the following items:
| | |
| --- | --- |
| | Extra Strength/Non-Toxic Chamber capsule sized for a maximum of 4 individuals. |
| | Oil-Free Air Compressor |
| | All-IN-One Oxygen Concentrator Upgraded to 10 liter/min |
| | Exterior Metal Frame |
| | Air Cooler integrated for free. |
| |  Air Conditioning System |
| | A muffler designed to reduce noise in the chamber |
| | Oxygen Mask and Headset included to breathe oxygen directly |
| | Antistatic Earthing Matt |
COMPRESSOR
Experience the power of oxygen with our Hyperbaric Oxygen Air Compressor. This revolutionary device gives you access to the highest quality air, allowing you to breathe in more oxygen than ever before. Our compressor is designed to provide a safe, convenient way to increase your oxygen intake as much as 20 times higher than normal levels – perfect for athletes looking for a competitive edge and health-conscious individuals seeking an energy boost.
INTERNAL AND EXTERNAL PRESSURE GAUGE
Internal and External high-precision pressure gauges, allowing you to control pressure changes at any time.
Allows for accurate observation of pressure inside and outside the chamber.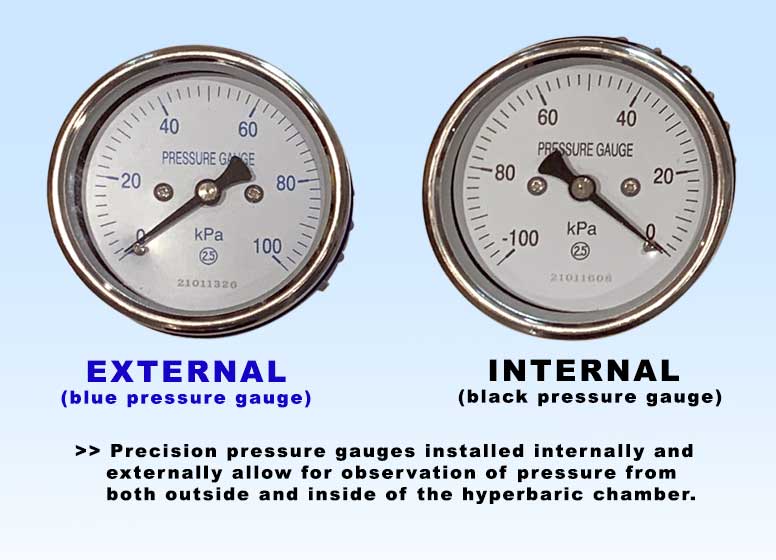 FDA Approved providing stable oxygen purity at 10 LPM with 95% purity after 5 minutes. Provides a hefty 640 Watt Motor for long-lasting durability and 18 to 20 PSIG suitable for high-pressure chambers!
SPECIFICATION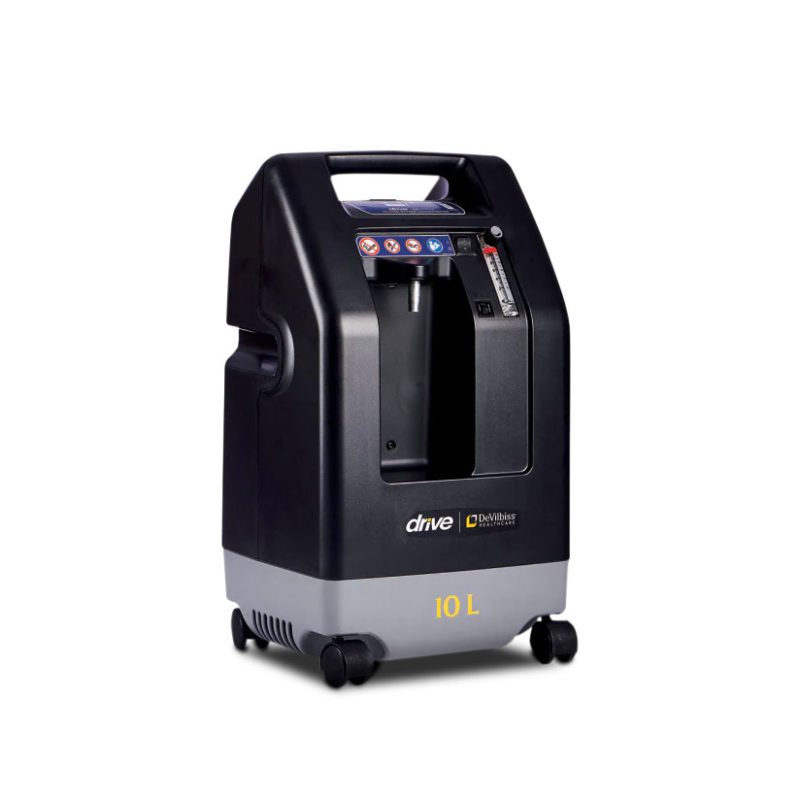 Emergency Pressure Relief Valve
Patented design emergency relief valve,in case of emergency,the user can press the release button from interior to depressurize the chamber quickly,then open the zippers to exit the chamber quickly.
Optional Addons: Now available we have the option to order an Ice Bucket cooling system which extends the cooling comfort well beyond that of the air cooler. We are the only hyperbaric manufacturer to offer an air conditioning system for use with Hyperbaric Oxygen Chamber Systems. Call for details.
Optional Update for Air Conditioning
  KEY FEATURES OF OXYGEN HEALTH SYSTEMS CHAMBERS


Portable, Simple to Install, Easy to Use

Durable Internal Frame for Greater Chamber Structure Support

Environment-Friendly Materials, NON-Glue, NON-Toxic

Memory Foam Mattress Made for Greater Comfort

Quality Dual Zipper System (YKK) for Durability and Strength

Internal/External Dual Pressure Display Allowing Pressure Reading Anytime from Inside and Outside

Five Carbon Filters Designed to Remove Fine Contaminants and Provide Clean Air

Internally/Externally Operable Pressure Release Valve for Self-Sustaining Operation

Quiet High-Volume Air Compressor Designed to Expel CO2

Dual-Action Air Conditioner for Internal Cooling/Removal of Humidity

Included Ionization Technology to Elevate Negative Ions Inside Chamber

Multiple Spare Ports For Future Expansion

Redundant Pressure Regulating Valves for Added Safety

Super High Pressure 20 PSI, 10 LPM Oxygen Concentrator with 95% Purity

Operational Videos and Training

Higher pressure models available. Higher pressure translates to greater compression of oxygen molecules

Available Models with Advanced Door Design for Easy Entry/Exit for Mobility-Challenged Users

O2 Concentrator at NO Extra Charge

Default Dehudifier at NO Extra Charge Included with Chamber Without A/C

Midwest-Based US Company with all US-Based Customer/Technical Support
*

25% restocking fees apply to all hyperbaric products. Return must take place within 15 days of receipt of products. Shipping charges are non-refundable and non-negotiable. Additionally, a $250 warehouse handling/logistic fee would apply.
Return Policy